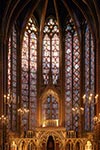 Entrance tickets to Sainte Chapelle
Price from $ 19.90
Visit this historic monument in Paris, Sainte Chapelle, an architectural gem from the Gothic period. Skip the line with prebooked tickets and walk straight in to the beautiful chapel.

Highlights:
- Skip the line to Sainte Chapelle
- Explore the chapel on your own
- Admire the beautiful stained-glass windows
- Learn more from the information panels
- Enjoy free entrance for children under 18

Explore Sainte Chapelle in Paris
Sainte Chapelle was originally built to house relics of the Passion of the Christ acquired by the monarch during the 13th century. These include a piece of the True Cross and the Holy Crown, which nearly disappeared in the early 19th century.

Starting in 1790, Sainte Chapelle was restricted to members of the clergy and was emptied of its contents. It progressively became archive storage for the neighboring Palais de Justice—Paris's Court House—until a restoration campaign was started under pressure from the public.

Today, it is no longer possible to admire the relics for which Sainte-Chapelle was built, as they were either lost or displaced during the French Revolution.

How do I get my tickets?
Shortly after your booking is complete your e-ticket will be send directly to your email, just print it out and bring it with you to our agent PARISCityVISION in Paris.

How does it work?
Once you get to Paris, go to our agent PARISCityVISION's office to exchange your e-tickets to your original tickets before visiting Sainte Chapelle.

How long are my tickets valid?
Your entrance tickets to Sainte Chapelle are valid on the date you choose. Please disregard the time slot in the booking process, it's not applicable.

Are there children's tickets?
No, however children under age 18 are free of charge when accompanied by a paying adult.
Entrance tickets to Sainte Chapelle Info
Entrance tickets to Sainte Chapelle
You'll have to exchange your e-tickets for the original entrance tickets at PARISCityVISION's office in Paris.
2 rue des Pyramides
75001 Paris

PLEASE NOTE: You must collect your tickets no later than 9 PM as indicated in the ticket category.

Info
Entrance tickets to Sainte Chapelle
Daily from 9 AM to 7 PM (until 5 PM in October–March).

No entrance Monday–Friday between 1 PM and 2:15 PM.
Directions
Directions
The closest metro stops are: Tuileries, Pyramides & Palais Royal.



View map