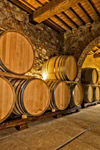 Wine Tour to Burgundy
Price from $ 306.10
Enjoy a fun and informative full-day trip to the Burgundy region! Learn how wine is made, discover the village Vézelay, visit a wine cellar in Chablis and enjoy a wine tasting.

Highlights:
- Enjoy a full-day trip to Burgundy
- Get picked up at your hotel
- Learn how wine is made and taste local wine
- Enjoy a lovely 3-course lunch w. drinks
- Visit the UNESCO-protected village Vézelay
- Get a tour in a wine cellar in Chablis and taste the wine
Wine Tasting in Burgundy
Your driver and guide will pick you up at your hotel or apartment in Paris and head to the Burgundy region in a luxury air-conditioned minivan.

After an approx. two and a half hour drive, we'll make our first stop in a little village facing the 'Eternal Hill', where the Basilica of Sainte-Marie-Madeleine stand. You'll be welcomed by a winemaker who'll show you his winery and explain how the wine is made. You'll also get the chance to experience a wine tasting from his own harvest.
Next up is Vézelay, an UNESCO-protected village. Enjoy some time on your own to wander around the charming village and visit the Basilica of Sainte-Marie-Madeleine dedicated to St Mary Magdalene.
Enjoy a lovely 3-course traditional French lunch at the restaurant 'A la fortune du Pot'. Vegetarian option available.
Then we'll head to Chablis. At Chablis, you'll get a tour of a wine cellar and get the chance to taste the fantastic wine of Chablis, one of the best in the world.
You'll be back at your accommodation in Paris around 6:30 PM, depending on traffic.
How do I get my tickets?
Shortly after your booking is complete your e-ticket will be sent directly to your email, just print it out and bring it on your tour.
Where does the tour begin?
Round trip transfer is included to/from your centrally located hotel in Paris. Please note that the postal code must begin with 75.

Before you can complete your booking, you will be asked to give us the name of your hotel, so we can arrange your pick-up.
Where does the tour end?
The tour ends back at your hotel in Paris.

How long does the tour last?
The tour lasts approx. 12 hours.

What languages is the tour available in?
The tour is available in English and Japanese.

Are there children's tickets?
Yes, children's tickets are available for children between age 3-11. Children between under age 3 are free when accompanied by a paying adult.
Wine Tour to Burgundy Info
Wine Tour to Burgundy
The tour includes pick-up at your accommodation in Paris.

Info
Wine Tour to Burgundy
The tour departs Monday and Thursday at 6:30 AM.
Directions
Directions
See a map of Paris below.



View map