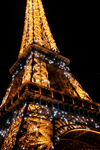 Dinner Restaurant 58 Eiffel Tower
Price from $ 33.30
Enjoy a lovely dinner at Restaurant 58 Eiffel Tower! It's a truly Parisian experience you'll never forget. With tickets secured, you skip the normal line to the Eiffel Tower and start enjoying your special night.

Highlights:
- Enjoy a delicious dinner at Restaurant 58 Tour Eiffel
- Take in the panoramic view of Paris by night
- The lift ticket is included in the price
- Skip the line with pre-purchased tickets
- Buy tickets for the top of the Eiffel Tower

Great Atmosphere, Amazing Views & Delicious Food
Restaurant 58 Eiffel Tower is located on the first floor of the Eiffel Tower and offers beautiful panoramic views over Paris. With the restaurant's sleek design and appetizing French food the setting is perfect for a night out in Paris!

The atmosphere in the restaurant is one of quiet comfort and tranquility, and the furniture is minimalist so as not to distract from the lights and beauty of the city.

Your hostess will welcome you and show you to your table where you will enjoy a chic and trendy menu with table service.
You can view the different menus here:
18:30 - Tentation & Plaisir menu
21:00 - Sensation & Service Premier menu
How do I get my tickets?
Shortly after your booking is complete your e-ticket will be send directly to your email address entered at time of booking, just print it out and bring it with you to the Restaurant 58 Tour Eiffel.

What time is dinner served?
Depending on which menu you choose, dinner is served at either 6:30 PM or 9 PM.

How long do I have my table?
You'll have your table for approx. 2 hours.
Is there a dress code?
Yes, the dress code is casual and business casual. Tie, suits or dresses are optional. Jeans, shorts and sneakers are not permitted.
Is smoking allowed?
No, smoking is prohibited in the restaurant.
Are there child rates?
Yes,child rates are available for children under age 13.
Fantastic
4.4
Result from 18 customer reviews
You're paying for the view.
The view was great. Our seats by window were great. Food was very nice and service was quite good. I wish the price did not include drinks; we don't drink alcohol so I'm pretty sure our evening would have worked out a bit cheaper. As it was an extremely cold evening, we needed to get a taxi to and from the dinner, so it worked out a very expensive evening.
wonderful
every thing about the dinner was wonderful - the best I had in my European trip. delicious and the waiter was perfect!! attentive but not overly. thanks for a great first night on my one and only trip to Europe!
Dinner Restaurant 58
Fantastic night. Every need looked after by waiters. Fabulous views while dining . Meal 10 out of 10 . A truly unique experience a must do if in Paris.
Lovely
Dinner was lovely. Great table by the window. Thoroughly enjoyed. Seeing the crowds at the tower was so glad I had pre arranged. A tick off my bucket list.
Not too organized- was just there 5/28/15
If its your first time like it was for me trying too find out which line to go to is a challenge as no one helps you and you have to figure it yourself which waste time. (There are small brown ticket booths to the left of the tower, thats were you have to go get your tickets)
The restaurant, food was very good and the ambiance. No one told us the Eiffel tower elevator closes st 11 pm so we missed going up to the top, plus you have to buy a separate ticket for that. One experience is enough
Magnificent
we celebrate our 25th anniversary on the eifell tower. So it was important. Everything was smooth picking up tickets for lift to resturant. We were so happy with our table right on the window. What a view. Fantastic service and food. Highly recommend this company no problems at all.
Valentine's Day Dinner @ 58
I surprised my wife with a trip to Paris for her 60th birthday and planned it so we would be there for Valentine's Day. I booked Valentine's Day dinner @ 58 and hoped it would be as reviewed. The evening was perfect! The night was clear, the city view was amazing and we couldn't have asked for better food & service! This was our 45th Valentine's day together and this one was in our top 5 that we've experience! Thanks Paris & 58 Eiffel!!
Tom & Terri Kahle, San Francisco, California
Our Dinner in the Eiffel Tower
The service was excellant, the meal was fantastic, the view was unparalled and now I have to take my wife back again !!
An Outstanding Experience
My wife and I celebrated our 40th wedding anniversary with dinner at 59 Eiffel Tower and could not have picked a better venue.
We flew almost 30 hours to Paris from Australia arriving only hours before our reservation and so we arrived a little tired and perhaps a little apprehensive about what awaited us.
But we had not reason to worry. From the moment we walked into the restaurant we were treated royally and with good humour and warmth. Our meals were superb and just what we expected in our favourite European city.
I will recommend the 58 Eiffel Tower experience to anyone and everyone.
Chris Stewart
Gold Coast
Australia
Expensive for what it is
Whilst it was lovely to be seated next to the window and be dining in the Eiffel Tower, the meal was 'mass produced', not particularly good and far too expensive for what we received. We enjoyed many other meals during our stay in France more than this. Please expect a 'tourist' meal if you dine here, or opt for the 'other' restaurant.
Paris cuisine at its best!
Dinner at the Eiffel Tower turned out to be the best dining experience while visiting Paris. The staff was wonderful, and the food exceptional. Beautiful presentation and taste beyond expectations - had expected great food everywhere in Paris due reputation, but nothing compared to Restaurant 58! Highly recommend if seeking the cuisine Paris is noted for.
What a night!
Fantastic food, even better service and topped off with a trip to the summit. This is a must for any trip to Paris!
58 Eiffel Tower
Excellent service, wonderful view. Would have preferred a Beef Dish on menu as one of the choices. Having reservation allowed us to skip the long queue .

Definitely recommend !
Anniversary Dinner
We had Dinner at this restaurant to celebrate our 40th wedding anniversary, and it was truly amazing -
the food, the waiters, the view - Absolutely perfect.
Everyone should celebrate their anniversary at 58 Eiffel Tower!!
9:00pm dinner on 4/212-14
Our seat was terrible next to the handicap elevator and we were not allowed to move tables, so not much of a view. The photogrtapher was a pain as she would not take "no" for an answer as we did not want our pictures taken, She took 12 pictures of us and wanted us to make various poses to do so to the point i thought she was just screwing with us. Food was average at best. If I ever get back to Paris, I wil not eat at Restauarnt 58 again.
Not A Dinner....An Experience!
I booked the opera menu on the Eiffel tower for my boyfriends 30th birthday. It was simple to book online. It wasn't clear that you'd need to convert your online reservation to a ticket when you arrived at the Eiffel Tower but that's why it is recommended to arrive 30mins before your reservation.
The restaurant was fully staffed and run to perfection. The food was out of this world and well worth the money.
There were photographers throughout the night which were a little intrusive but we had a gorgeous photo taken so not complaining!
All in all we were blown away and would definitely recommend this to anyone who were visiting Paris for a special occasion.
A night to remember
Good food at the tower. Needed to book 3 months in advance but the setting and the wait was worthwhile. First time in Paris so it was a must to have dinner at the effiel tower. We enjoyed the atmosphere. The lights in the restaurant needed to be turned down so that you could see the night lights of paris more clearly.

Regards
David
Everything perfect!!
Views, service, and especially food all excellent. No waiting in line for elevator access. Open kitchen interesting to home cooks. Very reliable smaller concierge like ticket firm. Would definitely use them again, as I frequently visit Paris.

Special thanks to Stephan, who made me feel like I was his only customer!!!! Highly recommend both activity, and firm.
Dinner Restaurant 58 Eiffel Tower Info
Info
Dinner Restaurant 58 Eiffel Tower
Opera dinner starts at 6.30pm and service closes 9.00pm.
Service Premier dinner starts 9.00pm.

Directions
Directions
Take the metro to Bir Hakeim station



View map