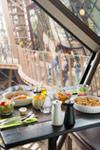 Lunch at Restaurant 58 Eiffel Tower
Price from $ 24.40
Enjoy a lovely lunch at the Restaurant 58 Tour Eiffel in the Eiffel Tower in the heart of Paris. The food is great and the view is absolutely breathtaking. Great value for money!

Highlights:
- Enjoy a lovely lunch buffet at Restaurant 58 Tour Eiffel
- Choose 3 courses incl. drinks
- Take in the panoramic view of Paris
- The lift ticket is included in the price
- Skip the line with pre-purchased tickets
- Chance to buy tickets to the top of the Eiffel Tower

Enjoy a Lunch in the Eiffel Tower
Complete your trip to Paris with a lovely lunch at the famous Restaurant 58 Tour Eiffel located on the 1st floor of The Eiffel Tower.

When you arrive at Restaurant 58 your hostess will escort you to your table where you will order your drink, before heading to the buffet.

You can see a menu example HERE.

If you'd like venture further up the Eiffel Tower you can buy tickets for both the 2nd and 3rd floor from here and avoid the queues.
How do I get my tickets?
Shortly after your booking is complete your e-ticket will be sent directly to your email address supplied at time of booking, just print it out and bring it with you to Restaurant 58 Tour Eiffel.

What time is lunch served?
You can choose between 12 PM or 1:30 PM. Please plan on arriving 30 min. before your reserved lunch time.
How long do I have my table?
You'll have your table for approx. 1½ hour.
Is smoking allowed?
No, smoking is prohibited in the restaurant.

Are there child rates?
Yes, child's rates are available for children up to 12.
Very Good
4.0
Result from 20 customer reviews
Birthday Lunch
I recently booked a lunch at 58 Eiffel Tower for my birthday. It was OK but it was really very rushed. The menu was "Picnic Style" , this is code for pre packed and rushed.
great place for meal
the place was just good. still the meal itself need to be improve.
Birthday Celebration
Three of us celebrated our friends 65th birthday at the Restaurant 58. The service was excellent and the food very good for a fixed menu. The mushroom starter was outstanding!
At the ticket booth where you pick up your reservation I would have like to have known we could have gone up a little earlier to the observation deck at the restaurant - she said we needed to wait until almost our time.
Also, we were told we could purchase tickets to continue up the tower to the other levels from the restaurant level but that was not true. There is a place to purchase tickets but it was closed. We did have the option to walk up, however one person in our party had a foot injury that made that impossible. We just did not want to go down and stand in line to get tickets so missed the view from higher up. It would have been a 5 if we could have gone up further.
Other than that it was a great experience! The waiter even brought over a extra treat with a birthday candle for our birthday girl. Very unexpected!
Virginia
Lunch at Restaurant 58 Eiffel Tower
Reception was good and they got us seated very quickly. Surprise when the desert was brought out with the entree. However food was good for a lunch and we enjoyed the meal.
Nice view, friendly staff and very romantic
Very recommended
It was good.
Despite the really bad weather we had a lovely afternoon.
A wonderful experience
Delicious food, lovely view and plenty of time to spend up Eiffel Tower taking in the scenery. A little disorganized in getting to the correct queue to initially go up the tower.
Ooooo-la-la!
Everything was perfect beginning with the reservation process; it was easy and straight forward. This was an especially good value because the lunch reservation allowed us to avoid waiting in the long line to go into the tower. Our three course lunch, including wine, was superb. I highly recommend this!
delicious!
The lunch was divine and the view was superb! Made my daughter's birthday a day to remember.
Fun lunch
This is a fun way to get up the second level on the tower without having to line up. We were ushered straight through to the elevator which took us directly to the level with the restaurant. The views from this level were very good, more than acceptable for my wife and I. We were shown to a window seat, which was nice, although I don't think a window-seat it is essential to your overall enjoyment. The food was better and more substantial than I expected but was delivered all at the same time - appetizer, main and dessert. The wine was excellent. It was fun to have lunch in this special location. We had a view of the Trocadero.
Amazing Experience
Lunch at the Eiffel Tower was the highlight of our trip to Paris! What a wonderful experience. The food and service were excellent and the views were amazing!
More than We Expected
This was a wonderful experience. Finding the ticket office was easy. The special line -up was a little long but they moved us to another elevator and we were up in no time at all. The restaurant was very organized and ready for each reservation. I expected to be sat at a table with a bunch of strangers and was very pleased to be given our own table, with a great server .Again, I expected the food to be run- of- the- mill humdrum but very pleased with the choices of appetizer, plate and then dessert, (more than enough) and all with a glass of lovely wine. I would recommend this to anyone who wants to experience the Eiffel Tower. Thank you Paris Events Tickets.
Lunch@eiffel
What a wonderful experience and certainly no long queues to stand in. Lunch was good but a little to crowded for my liking. Views are amazing.
Very simple Food
It was a good experience to go on top of the Tower. The food is not great but its okay. We are the first one to be there and we are seated next to the window .
Lunch at 58 Eiffel Tower
Booked the 11.30 lunch....Amazing view but second rate lunch served in a pyrex microwave bowl (!) thought the amount charged deserved more than all 3 courses dumped at table at once and bread thrown down in a brown paper bag. Left with the feeling I was on the first sitting of school dinners!
Value for Money
This is a once in a lifetime lunch. The process off exchanging the printed ticket for the lunch voucher and lift ticket was fuss free and involved no queuing whatsoever. This also meant that we got to go in the priority entrance lane to get the lift which only involved waiting about 10 mins to get through the security part. Once we got up to the restaurant the staff were extremely pleasant, we were seated next to a window with a great view. Menu could have been ever so slightly better which is why I've only given 4 stars but we enjoyed it. The surrounding view was great and we didn't wait long for the food at all. On top of all this during the meal a photographer comes around and does a small photo shoot with you with optional buying of the photos at the end. We stayed for around an hour then continued up to the second floor for free. We then paid a further 6 euros to get up to the top. WELL worth it for the view. Amazing value for money and well planned out. No problems at all and extremely good price considering eating out in Paris in a normal restaurant would cost around this anyway. A MUST. Thanks for a great experience.
Lunch on the Eiffel Tower with kids
The actual lunch went well, the process of collecting lift tickets and getting priority access to the first floor went really smooth. You wouldn't want to be running late as you still have to pass through metal detectors/security which is understandable. Lunch was decent quality but a bit small on quantity, 2 courses either starter plus main or main plus desert, limited menu but fine for our group, we actually took the starter plus main and added a desert as a paid supplement which turned out to be quite expensive and we should have just waited to get an ice cream outside.

The only really difficult thing we had was to make contact with the restaurant to make a simple change to the reservation (add additional diners), in the end we gave up trying to do it so kept the original reservation.
A must do in PARIS!!!
Our lunch at the Eiffel Tower was wonderful. The food was great and the people that took care of us were super. It was a wonderful experience to sit and enjoy the beautiful view of Paris from the Eiffel Tower. Something our family will never forget. This is a must do for anyone traveling to paris and wanting an unforgettable experience, Our daughters were so excited to see the sights we had visited from this beautiful
view. Cherie
58 Eiffel Ower
Booking was a breeze and getting access without the queues was great but unfortunately the food was very disappointing.
Ray from Scotland
Well worth the cost....
Food was great, even my 4 yr cleaned his plate and the view says it all.
I had left my printed off booking receipt in the Hotel but had to use my email through my iphone to give the booking number and print it off in the resturant too allow us to have the lunch. Would not recommed anyone else does this as it was a sressfull few mins but restuarant were fine at letting me on their PC to print off.
Waiters were very pleasant and sevice was good.
Would recommend without hesitation.
Lunch at Restaurant 58 Eiffel Tower Info
Info
Lunch at Restaurant 58 Eiffel Tower
Lunch is served every day at 12:00am or 01:30pm.
Directions
Directions
Take the metro to Bir Hakeim station



View map