Moulin Rouge
Price from $ 134.50
Ever since 1889 the Moulin Rouge has enchanted and entertained audiences from all over the world. It's one of those things you simply have to experience when visiting Paris! Secure your tickets in advanc and surprise your family, friends or significant other with a show like no other!

Highlights:
- Secure tickets to this extremely popular show at The Moulin Rouge
- Skip the line at the box office
- Enjoy a marvelous dinner and show or champagne and show

"Féerie" : An amazing 2hours Can Can show!
Admire the impressive group of 60 artists from all around the world, as they perform in the legendary show "Féerie". "Féerie" is a spectacular two hour show filled with feathers, rhinestones, glitter, lavish settings, acrobats, original music - and of course the famous French can-can dance!
The show represents many aspects of Parisian culture, energy and ambiance!

At the Moulin Rouge you can also enjoy a pre-show dinner in the tradition of French gastronomy: refined dishes served with champagne - the official drink of the Moulin Rouge.

You can choose between two types of tickets: "Féerie" & champagne or "Féerie" and dinner.
You can view the different menu options here:
- Mistinguett menu
- Toulouse-Loutrec menu
- Belle Epoque menu
- Christmas dinner menu
How do I get my tickets?
Shortly after your booking is complete your e-ticket will be sent directly to your email address entered at time of booking. Just print it out and bring it with you to the Moulin Rouge.
When does the show start?
The show runs daily at 9 PM and 11 PM. If you choose tickets with dinner, then your dinner will be served at 7 PM and the show will begin at 9 PM.

Whether you choose to book tickets with or without dinner it is a good idea to arrive at Moulin Rouge half an hour before before the appointed hour.

How long is the show?
The show runs for 2 hours.
Is there a dress code?
Yes, the dress code is casual and business casual. Tie, suits or dress are optional. Jeans, shorts, and sneakers are not permitted.
Are children allowed?
The Moulin Rouge is not suitable for children and children under 6 years old are not allowed.
Important information:
- The Moulin Rouge is very popular, and Fridays and Saturdays often sell out months ahead. So the sooner you book the better the chances of getting tickets. If you can visit Moulin Rouge any other time than the weekend, your chances of acquiring tickets greatly increase.
Fantastic
4.8
Result from 8 customer reviews
Seating
Booked via Paris event tickets as I could not find any direct. Didn't know what to expect but we had front row next to the stage! Very pleased with the service.
Fantastic show
If this show is part of your bucket list , it is well worth it the staff and dancers were all fantastic. The bottle of champagne was also delightful.
Excellent evening
Great evening, the champagne needs improvement. Highly recommend it for everyone over the age of 18
Great show
Great show. Good seating and as we went for the champagne and show re were surprised that a full bottle was supplied. The booking process and website were easy to follow.
Moulin Rouge visit
My wife and I booked the Moulin Rouge tickets ahead, which was highly recommended. We had no trouble entering the Club and were immediately seated at a table with a great view of the stage. The show was excellent. The service of drinks was excellent. We had a wonderful time, and at the end of the show, had no trouble finding a taxi to take us back to our hotel. A wonderful experience we would highly recommend to others.
Fun. Fun. Fun.
We just loved the show. It was fun, lively, beautiful. a great way to spend an evening in Paris. Everyone should see the Moulin Rouge show, it is true Paris. Tres Bien!
When in Paris you should to your list of things to see
Entertaining, funny, and creative. The staff did an amazing job with service and making the evening enjoyable. My advice is to have a wonderful dinner at L'Atelier and make sure you ask for Darreau Benjamin for a few wine choices, then off to show.
Moulin Rouge
The show was absolutely phenomenal...well worth the price! Booking tickets online prior to my arrival was very smooth and the confirmation email was all I needed to pick up my tickets. The actors, dancing and costumes were all fabulous. The show represents part of Paris culture, energy and ambiance. I would definitely recommend this show be on your list of things to see while in Paris. ML, Calgary, Alberta
Moulin Rouge Info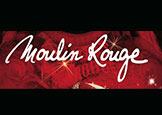 Moulin Rouge
Please show up 30 min. before start at:
Bal du Moulin Rouge
82, Boulevard de Clichy
75018 Paris

Info
Moulin Rouge
Show incl. 1/2 a bottle of champagne; Every day at 9:00pm & Friday and Saturday at 11:00pm
Dinner & show:
Every day at 7:00pm

Directions
Directions
Take the Metro to Blanche Station



View map