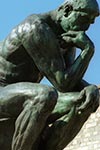 Entrance tickets to the Rodin Museum
Price from $ 21.70
Explore the beautiful Rodin Museum in Hôtel Biron at your own leisure and enjoy the masterpieces by Rodin, Monet, Van Gogh, and Renoir.
Highlights:
- Visit the Robin Museum in Paris
- Skip the line with prepaid tickets
- Admire the artwork by Rodin, Monet, & Van Gogh
- Try the thematic walks around the gardens
- See the beautiful sculptures
Explore the Rodin Musum
The museum used to be a workshop for artists such as Jean Cocteau, Henri Matisse and August Rodin in the early 20th century, before it was turn into the Rodin Museum. Today, it houses the works of Auguste Rodin, Claude Monet, Vincent Van Gogh and Auguste Renoir.
Make sure to take a stroll through the incredible sculpture garden. The thematic walks 'Garden of Orpheus' and 'Garden of Springs' let you admire some of Rodin's most iconic works, including The Burghers of Calais, The Gates of Hell, and The Thinker.
If in need of a break, you can take a rest and a cup of coffee in the café located in the museum's garden.
How do I get my tickets?
Shortly after your booking is complete your e-ticket will be send directly to your email, just print it out and bring it with you to our agent PARISCityVISION in Paris.
How does it work?
Once you get to Paris, go to our agent PARISCityVISION's office to exchange your e-tickets to your original tickets before visiting the Rodin Museum.
How long are my tickets valid?
Your entrance tickets to the Robin Museum are valid on the date you choose. Please disregard the time slot in the booking process, it's not applicable.
Are there children's tickets?
No, however children under age 18 are free of charge when accompanied by a paying adult.
Entrance tickets to the Rodin Museum Info
Entrance tickets to the Rodin Museum
You'll have to exchange your e-tickets for the original museum tickets at PARISCityVISION's office in Paris.
2 rue des Pyramides
75001 Paris

PLEASE NOTE: You must collect your tickets no later than 9 PM as indicated in the ticket category.
Info
Entrance tickets to the Rodin Museum
Daily from 10 AM to 5:45 PM. (Closed on Mondays)
Directions
Directions
The closest metro stops are: Tuileries, Pyramides & Palais Royal.



View map