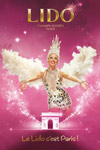 Lido de Paris
Price from $ 97.10
Lido de Paris on Avenue des Champs-Elysées is one of the most famous cabarets in the world. Buy tickets to Lido de Paris and Bonheur here!

Lido de Paris' "Bonheur " is of course genuine French "Cabaret" with the beautiful Bluebell girls and the elegant Lido boy dancers . "Bonheur" is a show in 4 acts with music, dance, and much, much more.

Bonheur at Lido de Paris is a show you will remember for the rest of your life!

We sell tickets to "Bonheur & champagne " and to "Dinner & Bonheur "!

Times:
Show incl. 1/2 bottle champagne: every day at 9:00pm and 11:00pm.

Show incl. one glass of champagne: every day at 11:00pm.

Dinner & show : every day where you dine at 7:30pm and enjoy the shows from the same seats at 9:00pm.

Read more about the Plaisir menu here
Read more about the Panache menu here
Read more about the Bonheur menu here

If you choose with or without dinner it is a good idea to be at Lido de Paris 30 min. prior to start!

Dress code:
Tie, suit or a dress are not required. However, please wear nice and casual dress. Jeans, sneakers and sweat suits are not allowed.

Children:
Lido de Paris is not suitable for children, and children under 4 years old are not allowed.

NB: Lido de Paris is very popular, and can often be sold out Friday and Saturday months ahead. So the sooner you book the better the chances are you can get tickets. If you can visit Lido de Paris other days than Fridays and Saturdays you might consider this to better your chances of getting tickets!
On request Tickets

Our local supplier needs to confirm availability for this performance. This should not take more than 24 hours
Read more
Lido de Paris Info
Lido de Paris
Please be at this address 30 min. before start:
Lido de Paris
116, Avenue des Champs-Elysées
75008 Paris
Info
Lido de Paris
Show incl. 1/2 a bottle of champagne:
every day at 9:00pm & 11:00pm
Dinner & show:
every day at 19:30

Directions
Directions
Take the Metro to GEORGE V Station



View map